Timelines for Commencement
The powers and functions of the AHBRA will be commenced on a phased basis and it is anticipated that all aspects relating to Registration will be commenced early 2022.
It is strongly recommended that AHBs familiarise themselves with the legislation, the registration framework, eligibility criteria, the application to register and the information required or that may be sought by the AHBRA when an organisation is deemed registered.
Registration Framework
The Housing (Regulation of Approved Housing Bodies) Act 2019 provides for the Regulator to establish and maintain a Register and to register persons as AHBs. Additionally, the legislation provides for registration procedures, including deemed registered, eligibility criteria, application to register, publication of a register, and entry and exit from the Register.
The legislation provides detailed procedures on the registration framework including: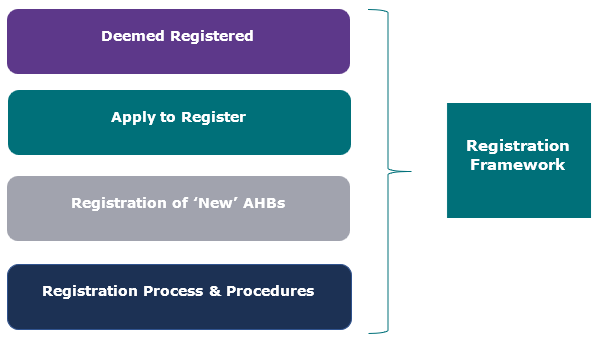 How to prepare your AHB
AHBs should familiarise themselves with the legislation, eligibility criteria and the application to register process. Additionally, AHBs should conduct a gap analysis on the information that will be required to register or that may be sought by the AHBRA in the performance of its duties.
The below outlines some considerations for both staff and Board members:
Do you know?
Are you on the Department of Housing Local Government and Heritage (DHLGH) existing AHB Register?
Is the information correct?
Do you have an associated organisation that is an AHB?
How many directors are on your Board?
Are the Names & Addresses of Directors correct and up-to-date?
Is the organisation's constitution aligned to the Eligibility criteria?
Do you have the following information?
Number of Housing Units
Grants/Debts/Loans associated
Time (maturity) of grants/debts/loans
Location of the title deeds
Total Income

Split of Income (rent, government, fundraising)

Expenditure
Full audited accounts
Do you have the following minimum information that is required under 'Application to Register':
The name of the applicant
The principal place of business in the State of the applicant
The names and addresses of the directors, management committee members and /or trustees
The skills and expertise of directors, members and/or trustees relevant to the organisation's primary object or primary objects
A current tax clearance certificate
Details of the activities that the applicant carries on or intends to undertake
Audited accounts and auditor's report in respect of the financial year immediately preceding the application or if the applicant was established in the 12 months preceding the application, then it must provide copies all accounts since its formation
Where an organisation is providing or managing dwellings on the date of the application, details of

the number of dwellings
owned or leased
duration of leases

A copy of the applicant's constitution.
The above list is not exhaustive, and the Regulator can request any other information that it reasonably requires to perform its functions.